Continuous measurement via microfluidic capillary electrophoresis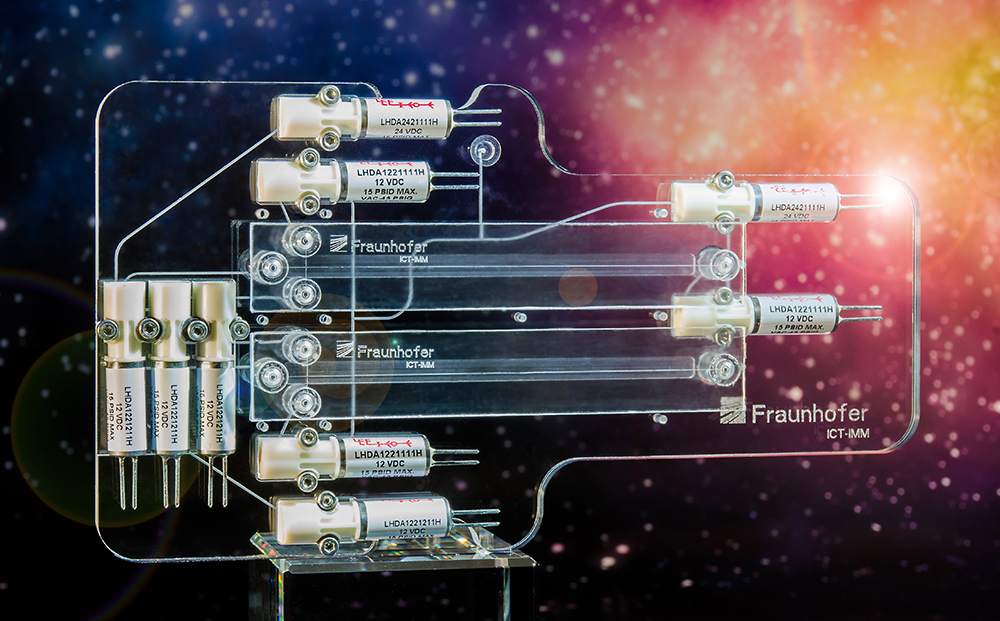 The functional principle of our ion analysis module is the chip based electrophoresis. Here, a liquid sample is first injected into a microfluidic channel where the contained ions are subsequently accelerated in a buffer solution by applying high voltage. A detector at the end of the acceleration path is then measuring ion specific peaks. This is due to the fact that different ions reach the detector at different times because of their specific electrophoretic mobilities. Finally, from these peaks a conclusion can be drawn with respect to existence and concentration of the ions.
Properties and application areas
The overall design of the ion analysis module is characterized by the following properties:
Very compact, lightweight and robust design: 25 cm x 23 cm x 10 cm; 2,2 kg,

automation of all process steps, including sampling in a fluidic bypass,

stable long-time storage of reagents: specially designed storage pouches made of aluminum compound foil minimize evaporation losses,

Operability, even under microgravity conditions, for instance in space.
Our research & development services
The basic principle of fully automated ion analysis can flexibly be adapted to your application specific requirements:
Refillable reagent compartments for more frequent analysis,

manually exchangeable electrophoresis chip for convenient maintenance,

integration of a fluidic dilution module in front of the measuring unit,

variation of the length of the electrophoresis channel as well as of the electrode geometry in the integrated C4D detector allowing sample specific signal optimization,

application specific optimization of the chemical buffer system,

development and integration of analysis routines.
Possible application areas could be:
Surveillance and control of chemical production processes (Industry 4.0),

quality assurance in the chemical and pharmaceutical industry,

mobile applications in environmental analysis, such as water analysis,

surveillance of experiments in space.