Fully automated detection for the subtyping of influenza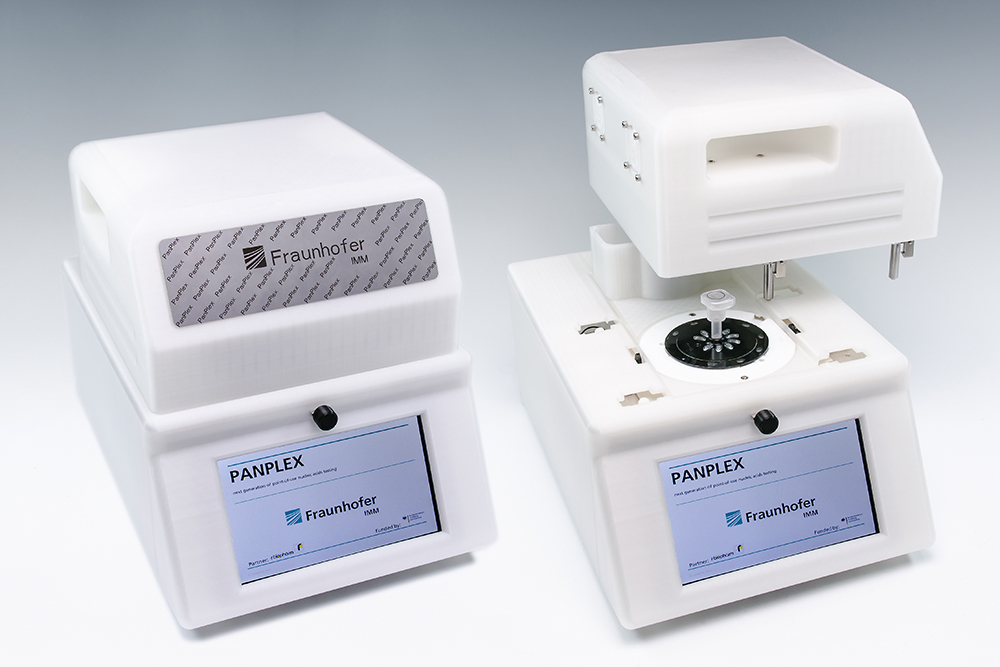 In the course of a joint research project we have developed a mobile, autonomously working platform for near patient diagnostics of influenza together with R-Biopharm GmbH. With the help of this platform the infection status of the patient as well as the subtype of the influenza virus can be determined. This information yield will help to rapidly control the spread of the disease.
The working principle of the detection system is the PCR-based nucleic acid amplification. The patient material is collected with a swab and initially put into a sample container. Subsequently, it is transferred into the buffer solution comprised. After lysis the buffer is transferred into several reaction chambers in which the multiplex detection reactions take place. The fluorescence that occurs during the assay is recorded via detectors included in the system and then finally is analyzed. The result allows drawing conclusions with respect to the bare existence of influenza viruses as well as to their subtypes.
Properties and application areas of the detection system
The overall design of the detection system we have developed is characterized by the following properties:
Very compact, light and robust design in the size of a shoebox,

all process steps including sample collection and preparation as well as amplification of the target DNA are automated,

integrated detection and analysis of the optical signal,

stable long-term storage of all reagents in the cartridge.
Our research & development services
The basic principle of the fully automated detection system is designed as a platform technology. By modifying the detection reaction and the temperature profile we can easily adapt the system to your application specific requirements.
Further possible application areas are:
Determination of the health status by means of near patient testing,

analysis of food and feed contamination.
related data sheet: Microfluidic Platform For Fast Detection Of Virological Infection Status
Developed in a framework of cooperation with R-Biopharm.