Sustainability and competitiveness by novel reactor-, plant- and process concepts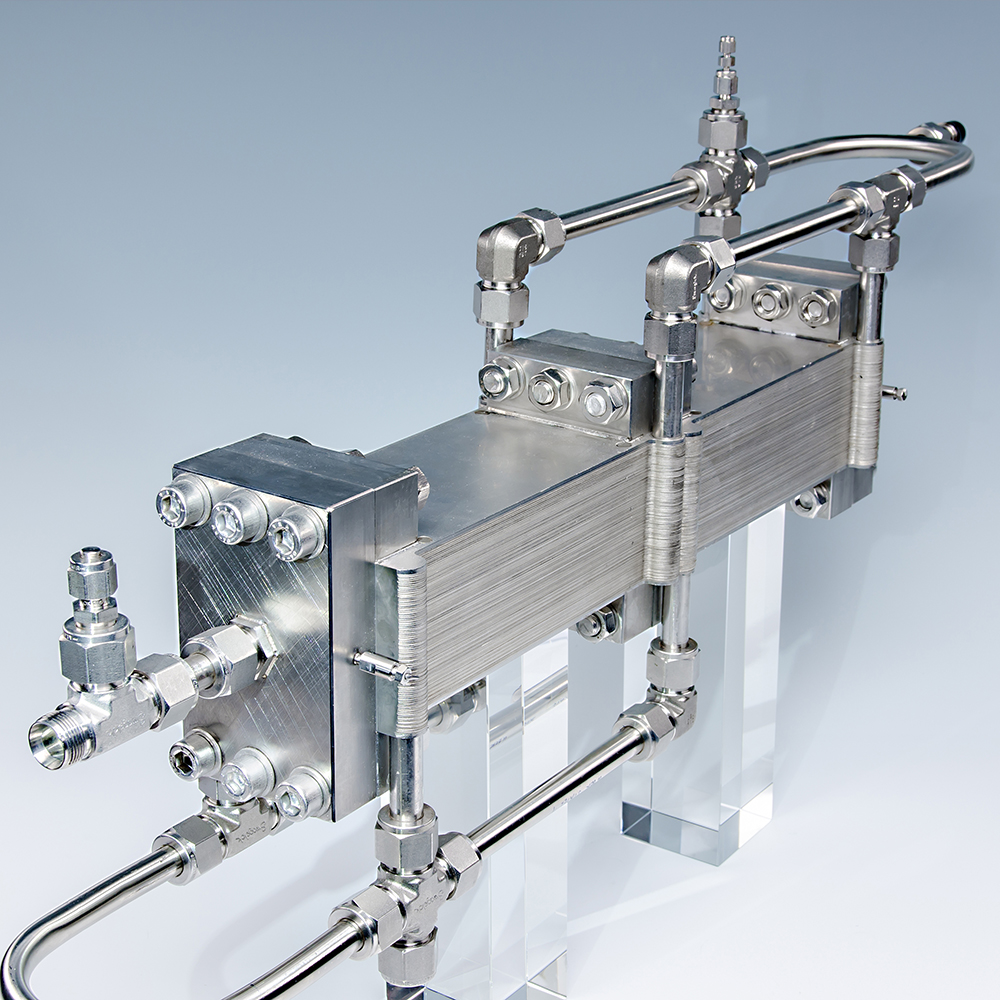 Chemical industry experiences severe competition from aspiring competitors especially from the Asian economic area while at the same time facing increasing demands with respect to the sustainability of their processes. A promising approach to improve chemical production is the so-called process intensification. Process intensification in the end means to develop completely new concepts for process steps and equipment involved compared to conventional process development that relies on performance improvement of existing concepts.
The basic principle
Within the EU project CoPIRIDE, a consortium comprising a total number of 16 partners, we followed the approach of modular production and plant concepts for intensified processes in order to achieve a flexible and scalable production taking into account sustainability and economic efficiency. One core element thereby was the development and use of a mobile, container-like plant infrastructure. Another one was the advancement of modular and, thus, scalable microreactors for industrial production use relying on manufacturing technologies being suitable for series production.
Objective
The targeted use of harsh process conditions enabled by and controlled due to the novel reactor concepts opens up significantly improved opportunities for processing. Increased productivity within the process itself has been achieved in particular through faster reactions thanks to the increase of process temperature and by the conversion of batch into continuous processing. We have achieved successes in:
The anionic polymerization by realizing a high product quality,

the epoxidation of soybean oil by reaching an increased space-time yield,

the supercritical biodiesel production through the use of lower value raw material.
Our research & development services
We show you a way to design your chemical processes in a safe, efficient and flexible way. In a holistic approach we thereby consider all influencing factors such as suitable catalysts as well as manufacturing technologies, components and plants suitable for series production up to intensified process conditions.
Potential for optimization by means of process intensification is not only offered by the processes considered in the framework of the CoPIRIDE project but in many further areas:
Pharmaceutical syntheses,

fine and special chemistry,

production and processing of gases containing hydrogen from different conventional and renewable fuels, used for fuel cells,

photochemical processes.
Funded by: 7th Framework Programme of the European Commission, project reference 228853-1.