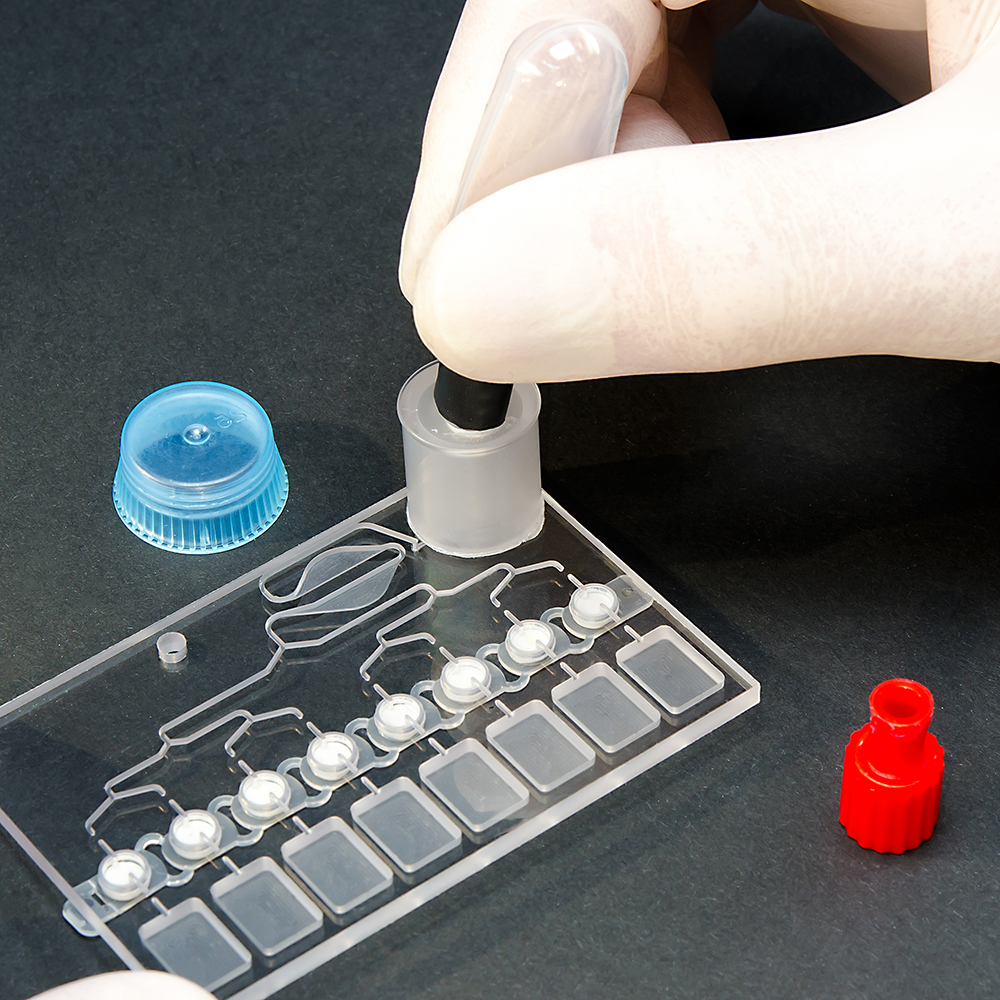 For the automation of processes, the use of microfluidic workflows is a flexible and powerful solution. Here, especially for analytical and diagnostic issues, the smart and appropriate sample handling is of great importance for the process result.
In recent years, we at Fraunhofer IMM have generated a wealth of expertise in integrating process steps such as sample collection, sample introduction, sample preparation and reagent supply into microfluidic workflows and have demonstrated this expertise using a wide range of application examples.
Microfluidics offers suitable possibilities for process steps such as mixing, diluting, incubating, lysing, fractionating and staining and can thus realize a wide range of tasks. Whether industrial media, environmental samples or human sample material, we at Fraunhofer IMM have the necessary knowledge and equipment to provide these media on microfluidic cartridges in the necessary quality for various analyses.
Your advantage
On-chip solution with high precision and functionality
Sample preparation by means of cost-effective disposable components
Fully automated analyses through intelligent fluid guidance and handling
Increased frequency of process analyses through automation
Reduced sample and reagent requirements thanks to microfluidic process control
Reduction of manual handling steps and associated costs
Access to more comprehensive data for quality assurance
Our success factors
Process understanding for the transfer of standard methods to microfluidic workflows
Many years of experience in microfluidic sample preparation, sampling and delivery in various fields of application
Development of individualized, microfluidic solutions for dilution (e.g. patented on-chip dilution method), mixing, reagent storage
Development of integrated solutions for analysis
Rapid prototyping for microfluidic structures
Typical application areas
Diagnostics (e.g. based on PCR, ELISA, fluorescence cytometry)
Determination of microbial load in water / aqueous solutions / environmental samples
Quality control in pharmaceutical production
Process monitoring, e.g. in biotechnology or beverage production